Instagram first launched Stories all the way back in 2016 as a competitor to Snapchat, and it didn't take long for Stories to take off and corner the market share. These days, more than 500 MILLION ACCOUNTS use Stories each and every day!!! That's a lot of content creation happening out there, and there are literally thousands of apps that have been developed to help users in their quest to stand out from the crowd.


The Instagram app itself has also come a long way since the early days of Stories, when originally users could post a photo or video for 24 hours, use a handful of filters, and overlay some basic text. Now, there's a never-ending stream of user-generated filters to choose from, 9 different fonts to use, drawing tools to spruce things up, stickers and gifs to stamp on top, and you can even add your favourite song too! The in-app features for Instagram Stories are pretty useful, and could use a post all of their own (coming soon - I promise), but one thing Instagram has definitely fallen behind on is templates, and ways to make Stories more visually appealing by adding borders, backgrounds, and whitespace.


So if you're looking for that edge to help lift your Stories to the next level, check out these top apps and have some fun getting creative:


The Best Apps for Creating Beautiful, Cohesive, and Compelling Instagram Stories
Canva Stories
From the same genius brains that brought us Canva, and made graphic design accessible to the masses, comes Canva Stories, an app dedicated to helping you create beautiful and professional looking Stories. There are countless templates to choose from, or start from scratch and design your own templates that you can save for later use. The ability to save your own templates, drag-and-drop abilities for editing, and options to use your own colours and fonts means you can keep your branding consistent and on point.

Price: FREE to use all functionality.
Premium Subscription: No in-app purchases or subscriptions offered.


Unfold
Unfold was one of the first Stories template apps to get big, and thanks to it's clean and minimalistic feel it remains one of the most popular options out there. Choose from groups of templates that will give your Story a consistent look while still allowing you to change things up frame by frame.

Price: FREE to use some basic template sets, purchase additional sets of templates for $1.49-$2.99, or get all templates included with an Unfold+ subscription.
Premium Subscription: Unfold+ is $4.49/month or $30.99/year.


cutStory
Like the name suggests, cutStory will help you take longer videos and split them into 15s chunks for use in Instagram Stories, a super helpful feature if you've recorded some video from outside of the Instagram app. Over the years, more great features have been added, and now you've got the option of creating photo and video slideshows, adding music to your Stories, recording voiceovers, adjusting the aspect ratio of the video, adding backgrounds, or using the in-app templates to show off your photos and videos.

Price: FREE to use, but a cutStory logo will be watermarked on your creations. Pay a one-off charge to remove the logo and add background music functionality, or get a cutStory Pro subscription to have access to all premium features.
Premium Subscription: cutStory Pro is $5.99/month or $50.99/year.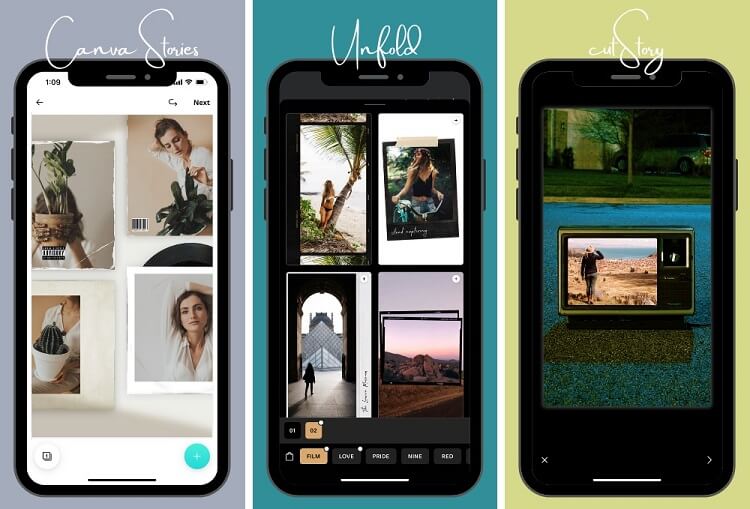 Instories
Add subtle animation to your still photos and text with the Instories templates. (You can add video into the templates too!) Short on photos to fill out your Stories? No problem! Add stock photos from Unsplash, and stock videos from Pexels right in the app! Add music from iTunes, and edit video and animation durations in the app for a truly professional edge.

Price: FREE to use all functionality, but some templates require a Pro subscription to export from the app.
Premium Subscription: Instories Pro is $16.49/month or $79.99/year.


mojo
Another one of my favourites for adding a little movement and interest to still photos and text, mojo also has animated backgrounds available, along with the option to add music, edit video and animation durations, and even to resize the aspect ratio of the template. You can add colour and font preferences to make it quick and easy to stay consistent, and there's a wide range of different templates to choose from.

Price: FREE to use, but some templates require a Pro subscription to export from the app.
Premium Subscription: mojo Pro is $12.99/month or $49.99/year.


Storyluxe
Storyluxe is an absolute gem when it comes to templates that are on-trend and current. The app makers are always adding new templates for you to choose from, themed for specific events to keep you up to date, like Coachella, back-to-school, and Hallowe'en sets. Save your favourites in-app so you don't have to spend time searching for the ones you use most often.

Price: FREE to use all functionality, but some templates require an all Unlimited Access subscription to use.
Premium Subscription: Unlimited Access is $4.49/month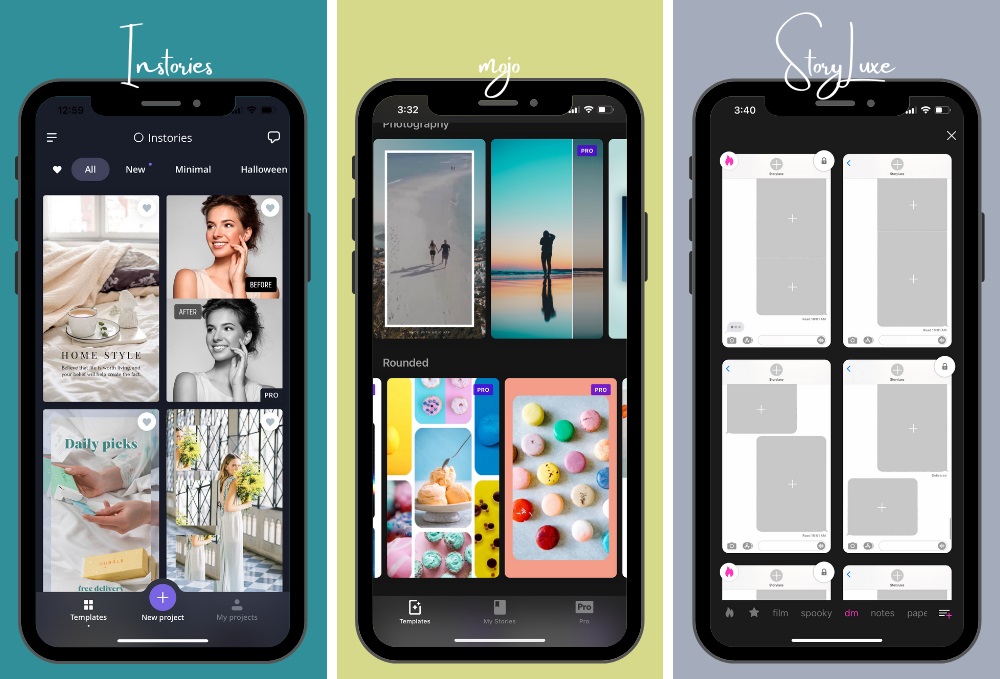 Spark Post
An impressively large set of done-for-you templates, and the ability to add animated text and gif stickers to your Stories, you wouldn't expect anything less from an app made by Adobe. Intuitive and easy to use with drag-and-drop editing, and you can resize your creations for various formats too. With a subscription you can upload brand assets and with one tap transform your creations so that they are always on-point and on-brand. If you already have an Adobe Creative Cloud Photography subscription, Spark Post will be included and you can sync photos directly from Lightroom.

Price: FREE to use all functionality, one-tap branding and some premium templates require a subscription.
Premium Subscription: Spark Post Premium is $14.29/month or $145.19/year, but is also included with the Adobe Creative Cloud Photography subscription, which is basically the same price, so you're better off getting the Photography package instead of Spark Post on its own.


Life Lapse
Add a bit of interest with a unique stop motion video in your Insta Stories by using the Life Lapse app. Never tried your hand at stop motion before? No worries - there are in-app tutorial videos to get you up and running in no time! You don't need any extra accessories to make your first stop motion, but to really get those pro looking vids, a tripod and good lighting will be a huge help.

Price: FREE to make stop motion videos and do some basic editing. You'll need a Pro subscription to remove the watermark logo, add music or to use some of the advanced editing tools
Premium Subscription: Life Lapse Pro is $14.99/month or $81.99/year.


Clips
85% of Instagram users watch to Stories on mute, which means if you have a message to share you'd better get some subtitles/captions on it. You can go in to most editing apps, or the Instagram app itself and painstakingly type out the captions, but that seems like a lot of time and effort, doesn't it? Clips lets you record a video and will add live captions as you're speaking. (along with a few other fun features like turning yourself into a Memoji while you're at it) It works really well, but if you do need to edit the captions, it's really easy to do before you export the finished product.
Clips is an app created by Apple, so if you're not an iOS user you'll need to substitute with Clipomatic ($7.99) or another similar app.

Price: FREE to use all functionality.
Premium Subscription: no premium subscription is offered.